Valentine's Day is surely one of my favorite holidays-
(it must be all the pink & red, chocolate, candies, and HEARTS!),
+ any reason to celebrate LOVE- count me in!
We celebrated love all February long through music & movement, and also ART! 
(Thank you Ms. Kelly for the zoom art class where we made LOVEBUGS!)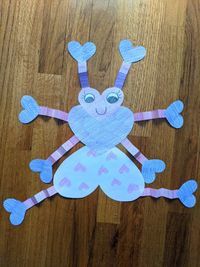 This month we also had a special "Snowga/Yoga" class with Ms. Kimberly,
a Meet & Greet with Snow White,
& a "dancing hearts" science experiment with Ms. Jacque! 
Thank you, February, for all the fun memories!
Here is a MOVE & GROOVE with Miss Jolie, where we CELEBRATE LOVE, filmed for the Emerson Public Library!
What was your favorite memory from February 2021?
Let's continue celebrating LOVE all year long!
XOXO,
Miss Jolie